Sandro und 764 weiteren Kunden
gefallen unsere Produkte
Small box with 4 chocolates - Christmas trees
Regular price
€11,90
Tax included.
Shipping
calculated at checkout.
In stock, ready to ship

Inventory on the way
---
---
NEW: KSC Christmas Party Box
Small but fine, filled with 4 handmade chocolates - of course made from 100% natural, sustainably grown ingredients.
mixture with alcohol
Chocolates marked with a '*' contain alcohol
1x Salty Caramel Praline
1x amaretto & hazelnut brittle praline *
1x sea buckthorn praline *
1x powdered raspberry praline *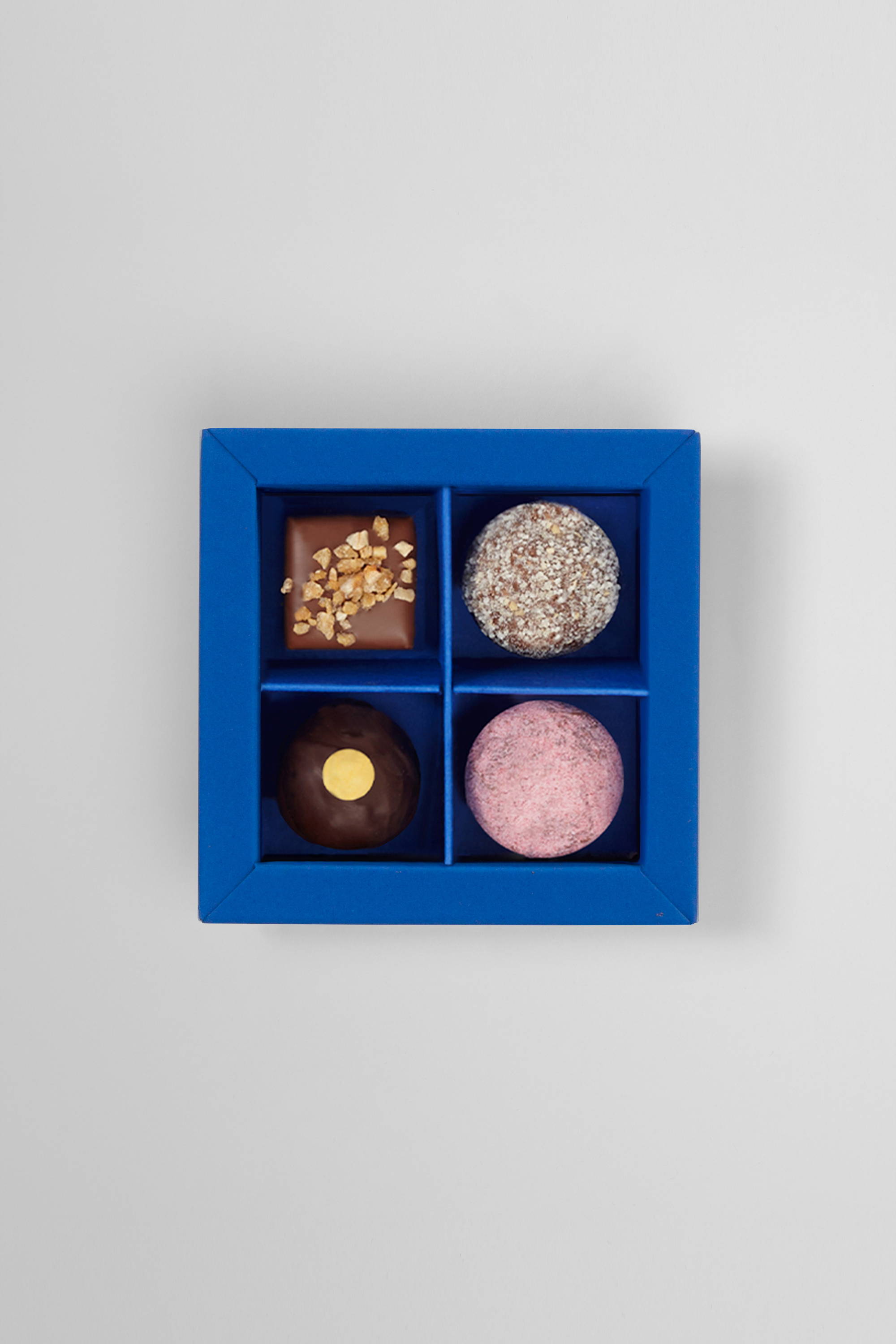 Mixture without alcohol
All chocolates in this selection are non-alcoholic.
1x cream nougat praline
1x Salty Caramel Praline
1x raspberry marzipan praline
1x pistachio marzipan praline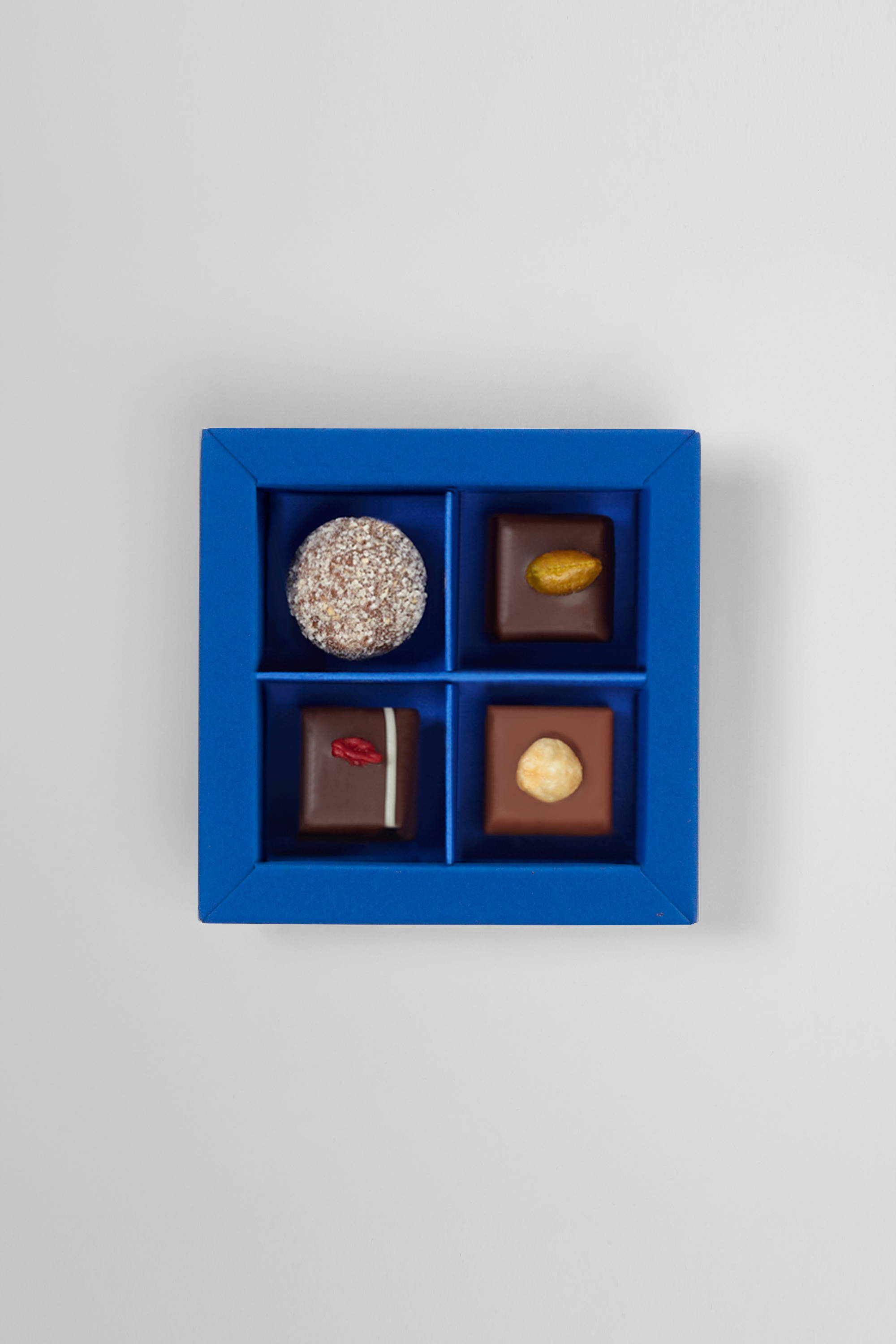 From the cocoa bean to the chocolate experience: our fine chocolates and pralines celebrate the beautiful moments in life: joy, passion, friendship, emotion. Every day.
Our chocolates are valuable but never prestigious: everything we do comes from the heart - with a smile on our lips and a wink in our eyes.
We do not use any artificial flavorings or colorings but only 100% natural ingredients for all our chocolatey products.
In addition, all of our products are UTZ-certified, which guarantees the sustainable cultivation of our ingredients.
Wherever possible, we source our products from the region - such as our crème de cassis liqueur, eggnog, rose oil or dried fruits.
Sustainability is important to us. All our ingredients are UTZ-certified to guarantee their sustainable cultivation.
Our iconic blue box is made of paper and made by hand. We don't use any plastic in any other way either.
We pack your chocolates & pralines in biodegradable cellulose foil and mailer boxes.
For the environment.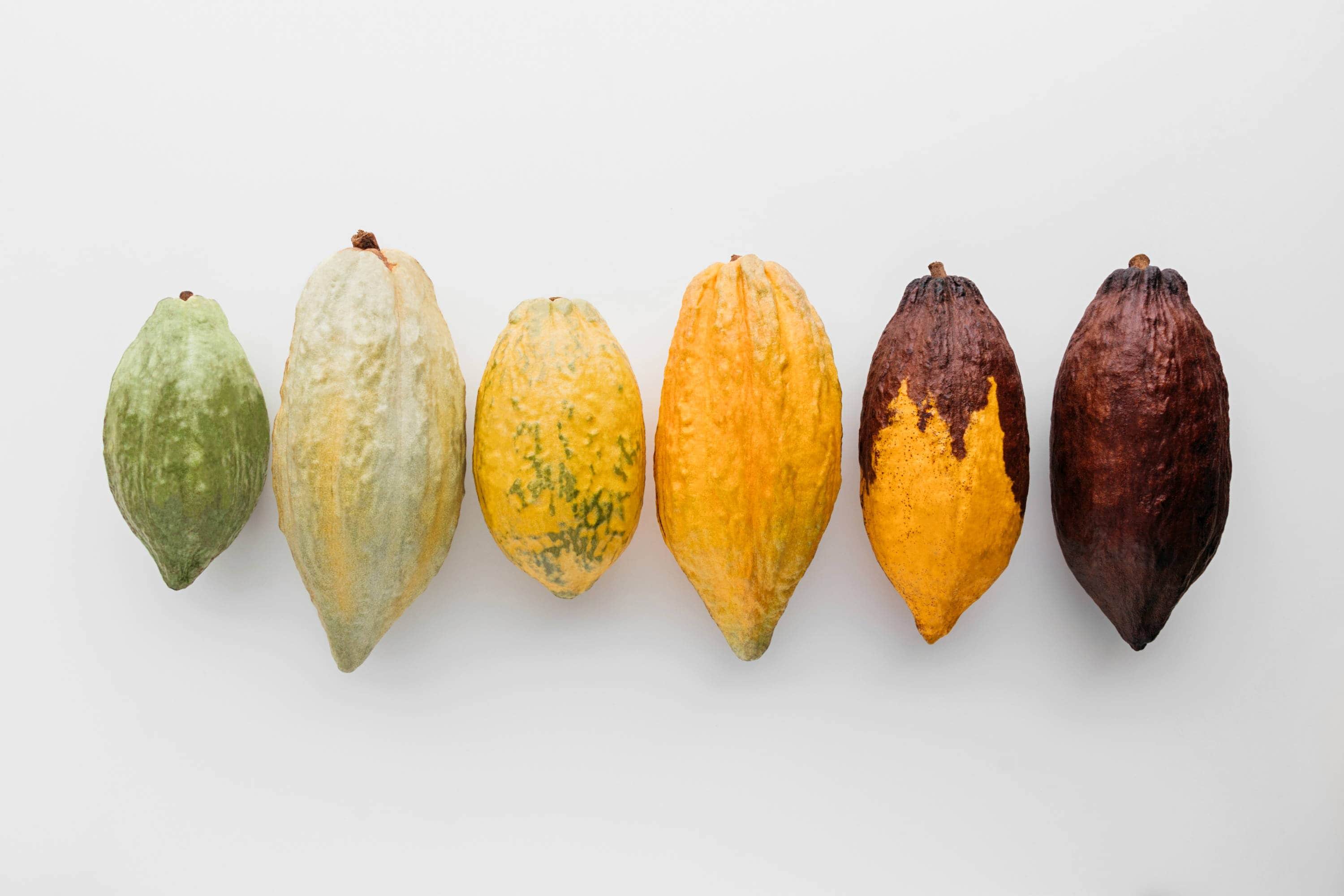 What does UTZ certified mean?
A UTZ certificate (utz.org) enables us and our customers to trace the origin of our chocolate.

The rigorous UTZ standard was developed in response to one of the biggest challenges in the cocoa industry: reforestation, climate change, systemic poverty and social inequality.

Together with the Rainforest Alliance, UTZ has drawn up a code of conduct that is regularly checked and further developed.

We only use natural ingredients for our chocolates & pralines to ensure our products are free from artificial colors and preservatives.
According to the Federal Environment Agency, 18.9 million tons of packaging waste were generated in 2018.

With our new concept, we counteract this and set trends in terms of sustainability and environmental awareness.

REFILL - you get a 10% discount every time you refill our blue chocolate boxes. We donate this 10% to the Sea Life Trust to help them protect our oceans from plastic pollution.
If you live near our boutiques, you can also infect the boxes you bought online.

REUSE - our blue boxes are sustainably produced and should definitely be reused instead of disposed of. A few ideas: jewellery, sewing kits, buttons, love letters, odds and ends or memories.
Blue is a state of mind. Blue symbolizes trust, loyalty, wisdom, confidence, intelligence, faithfulness and of course heaven.
Blue was the muse of the greatest artists and blue is the color we see on a beautiful Bavarian summer day.
Inspired by Yves Klein Blau and Yves Saint Laurent's Jardin Majorelle in Marrakech, our shade of blue is "Gmund Matt 55" - expressing an artistic spirit and the endless blue Bavarian sky.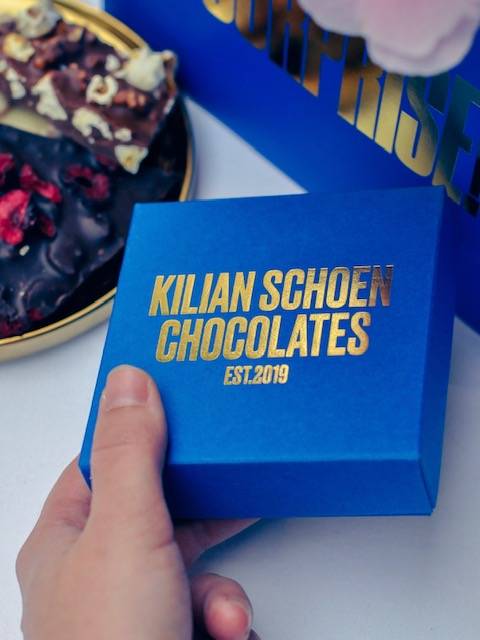 We ship all of our packages in our plastic-free, biodegradable Mailer Box.
Costs
4.90€ throughout Germany with Deutsche Post
€7.90 to other European countries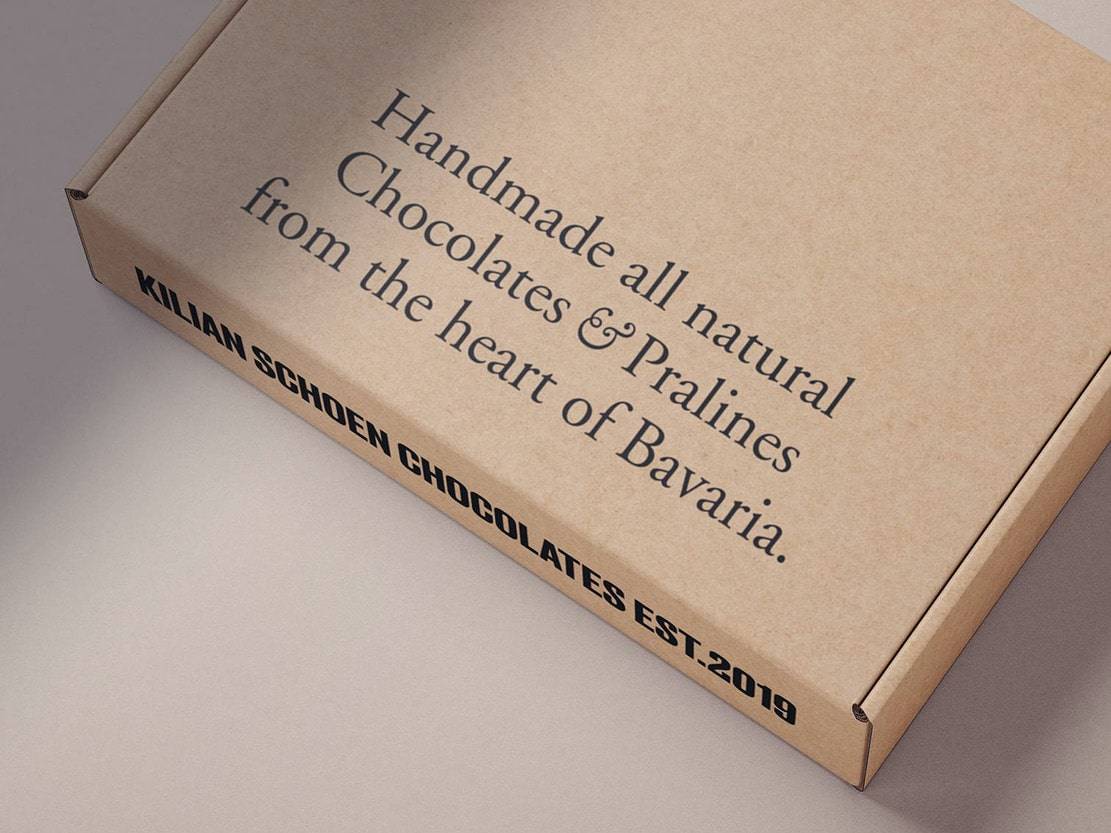 The delivery time is on average 3-5 working days within Germany and 5-7 days to other European countries.

We do our best to ship your chocolates as quickly as possible.
Our fine chocolate specialties are handmade with the highest quality standards from 100% natural ingredients.

Best enjoyed within 45 days of arrival.

Please store in a cool, dry place. Do not store in the refrigerator.
The goods are delivered worldwide.
Shipping costs (incl. VAT):
The shipping costs within Germany are 4.90 € (from an order value of 30 €, shipping within Germany is free of charge)
The shipping costs within the EU are 8.90 € (from an order value of 50 €, shipping within the EU is free of charge)
The shipping costs worldwide are €12.90 up to 2kg. From 2 kg, the shipping costs are €24.90 (from an order value of €500, shipping is free worldwide)
Delivery times:
Unless another period is specified in the respective offer, the delivery of the goods within Germany (Germany) takes place within 3 - 5 days, for deliveries abroad within 5 - 7 days after the conclusion of the contract (if advance payment has been agreed, after the time of your payment instruction).
Please note that there is no delivery on Sundays and public holidays.
If you have ordered items with different delivery times, we will ship the goods in one shipment, unless we have made any other agreements with you. In this case, the delivery time is determined by the item with the longest delivery time that you have ordered.